FAQ
Domande frequenti per l'auto-aiuto.
Si prega di dare una rapida occhiata alle domande (e risposte) comuni nell'elenco predefinito. Se non riesci a trovare quello che stai cercando, inizia selezionando la tua versione di Ability Office e poi restringila inserendo il testo di ricerca e/o la categoria.
Articolo della base di conoscenza 154
Windows 8 and Launcher
Launcher can be a useful shortcut for Windows 8 use - it allows you to run the Ability programs and open Ability documents without leaving the desktop.
The first step is to re-arrange your start menu so that Ability Launcher is easily available. Use drag and drop to put the Launcher near the left side of the Start menu. Here's an example of a very tidy Windows 8 Start menu with Launcher bottom left: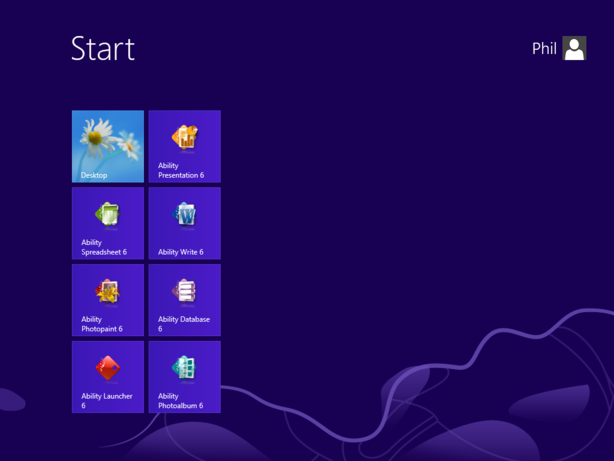 Note: if Launcher is not visible at all on the Start menu, use the app search function (move mouse to the bottom right corner of screen, click on Search, then Apps and enter Ability). Right-click over Launcher and select "Pin to Start".
Next, click on Launcher. This will cause Windows to switch to the Desktop and you'll see the Launcher icon in the notification area: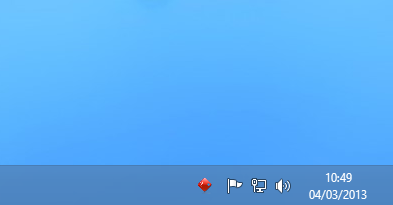 Note: if you cannot see the Launcher icon, click on the up-arrow in the notification area (Show hidden icons) and select Customise. Set Launcher to "Show icon and notifications".
Finally, click on the Launcher icon to run any Ability application: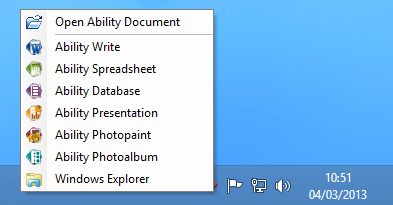 After going through the setup steps, next time you start Windows 8, simply click on the Launcher in the Start menu and then use as described in the last step above.