FAQ
Foire aux questions pour l'auto-assistance.
Veuillez jeter un coup d'œil aux questions (et réponses) courantes dans la liste par défaut. Si vous ne trouvez pas ce que vous cherchez, commencez par sélectionner votre version Ability Office , puis affinez-la en saisissant le texte de recherche et/ou la catégorie.
Article de la base de connaissances 150
How to switch between tabbed toolbar and traditional toolbar modes
Ability supports both a "tabbed-toolbar" style interface and a traditional toolbar interface. This FAQ described how to switch between the two.
To switch to the traditional toolbar interface, select Options/Toolbar mode as shown in the screen shot to the right.
The options menu also allows a switch of interface color and Microsoft Office 2007/2010 style ribbon.
These setting apply to all the Ability Office applications.
Traditional toolbar interface for Write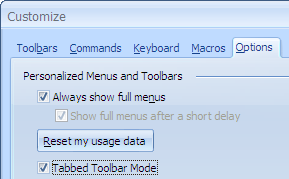 To switch from traditional toolbar back to the ribbon, select Tools/Customize in any Ability Office application, go to the options tab and tick Tabbed Toolbar as demonstrated in the screenshot to the right.